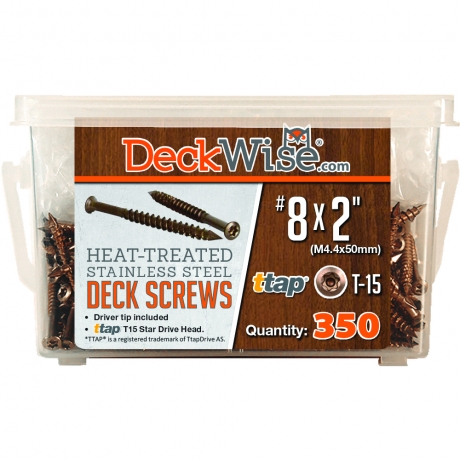 Heat Treated TTAP Screws
WC4008
With the new DeckWise® Self-Drilling Heat Treated Deck Screws, there's no pre-drilling required for face screwing or hidden deck fastening. Our specially engineered screw nail point tips will penetrate the densest exotic hardwoods. The serrated thread design prevents deck boards from ugly splits or splintering, even when drilling close to the board edge.
DeckWise® Self-Drilling Deck Screws are heat treated for extra hard wood toughness. The nail point tip self-drills while serrated saw threads remove sawdust out of the way for flawless face screwing jobs. Featuring a patented TTAP® T15 Star Drive head with locking bit, this eliminates bit slipping, so builders won't have to worry about the dreaded broken screws or stripped out heads. Engineered exclusively by DeckWise®, these Self-Drilling Deck Screws make installation of hidden deck fasteners easier and quicker than ever. 
---
Whole Conversation
Frequently asked questions with there Answers.
No Questions yet!
Ask a question
Installed Photos
No Installed Photos available