Hanover Plank
WC138
Select Grade Engineered Plain Sawn White Oak Flooring in our standard lengths of 2'-10'.
---
Specifications
| | |
| --- | --- |
| Species | White Oak |
| Finish | Unfinished |
| Construction | Engineered |
| Janka/Hardness | 1360 - White Oak |
| Moisture | 8 - 12% |
| Origin | United States |
| Knot Content | Occasional Pin Knots |
| Hole Content | Fillable |
| Heartwood Content | 90% |
| Checking | None |
| Grain | Mixed |
| Grading | Select |
| Collection | Hargrove |
| Pattern | Plank |
| Face Texture | Smooth Milled |
Features
Oak is a very strong stable lumber with a very consistent grain pattern. Plain Sawn Oak also known as Flat Sawn Oak is the most common way of cutting oak logs. It creates the least waste and is known for the cathedral pattern on the face of the board. Try this solid white oak flooring if you're looking for a natural golden wood floor with a bit of contrast!

About American White Oak Lumber.
A very popular choice for a wood floor, it takes stain well and ranks high on the Janka Hardness scale. Due to its hardness, it is a popular choice for high traffic flooring areas. Available in different cuts, Plain Sawn, Quarter Sawn,   Rift Sawn and Live Sawn. These cuts each refer to the way the boards were cut from the log, which gives the board each a unique appearance.
Plain Sawn, also known as flat sawn, is the least expensive cut of white oak as it creates the least waste. This plank will have the commonly seen flame or cathedral pattern on the face.
Cathedral Grain means that each board will have distinct cathedral grain running down the center of every board.
Quarter Sawn white oak boards will contain 'flake' marks in the grain.
Rift Sawn is the most expensive but also the most stable cut of white oak. These boards can be identified by the very straight and tight grain. Quarter sawn and rift sawn are commonly sold together as a rift and quartered white oak floor.
Live Sawn, also known as Euro cut, is cut the same way that oak logs are cut in Europe, this gives the boards a mix of the three previous cuts. You will get the plain sawn in the center of the board and out towards the edges you will get some rift and quartered grain patterns.
Oak trees can grow to be some of the biggest trees in America.  You can learn more about what it takes to be one of the biggest trees here.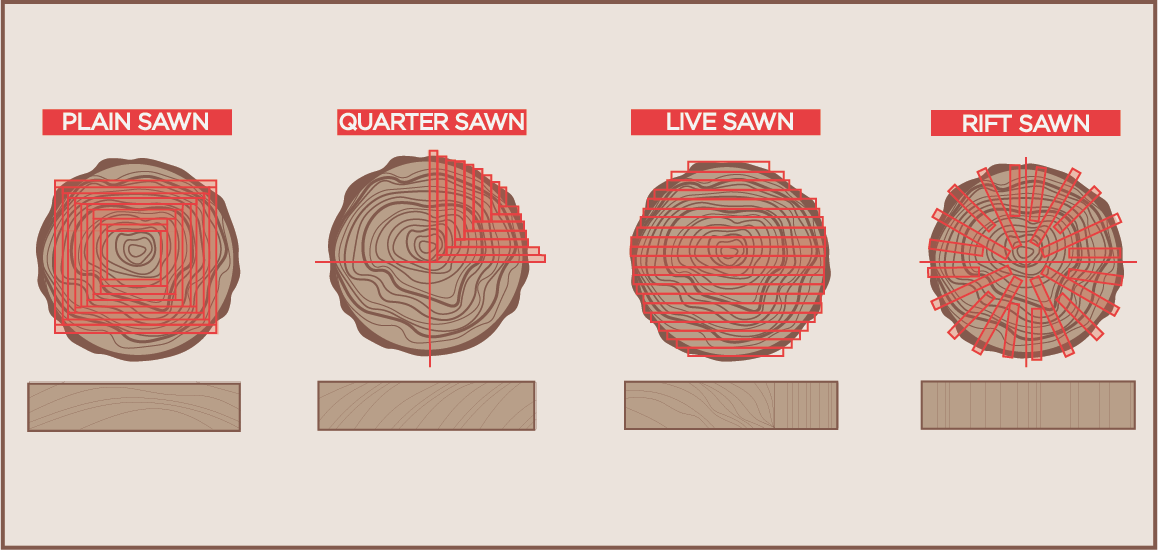 Whole Conversation
Frequently asked questions with there Answers. Public user

05/08/2023 08:28:52
umoaboluy
[url=http://slkjfdf.net/]Jalawau[/url] <a href="http://slkjfdf.net/">Alepaxge</a> nnq.hrjm.woodco.com.ttz.xs http://slkjfdf.net/
Yet to answer. Public user

05/04/2023 10:39:21
ogohiloh
[url=http://slkjfdf.net/]Obomehi[/url] <a href="http://slkjfdf.net/">Uozenay</a> lfl.hhsx.woodco.com.htr.rp http://slkjfdf.net/
Yet to answer.
Ask a question
Installed Photos
No Installed Photos available