When looking into what wood materials you would like to use in your projects, the hardness and durability of the wood is very important to note! You may be wondering, "How can I find out the hardness of a wood material? And what does that mean?"
Well, have no fear, because we are here to tell you a little bit about the Janka Wood Hardness Scale!
The Janka Wood Hardness Scale refers to a range of numbers that determine how dense a type of wood is and how resistant to dents, dings, and wear that a type of wood will be once installed.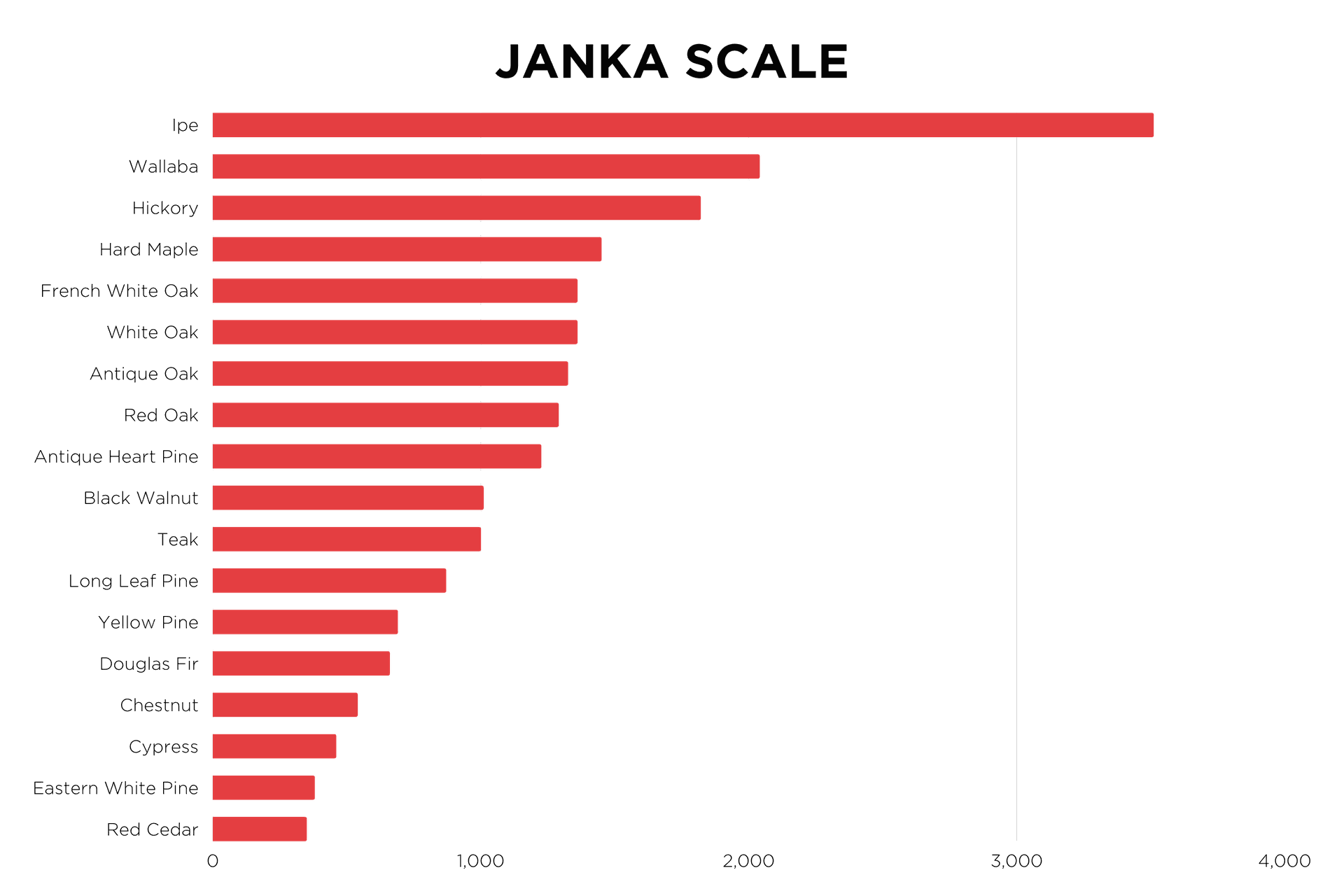 Ipe - 3510
Wallaba - 2040
Hickory - 1820
Hard Maple - 1450
French White Oak - 1360
American White Oak - 1360
Antique Oak - 1325
Red Oak - 1290
Antique Heart Pine - 1225
Black Walnut - 1010

Teak - 1000
Long Leaf Pine - 870
Yellow Pine - 690
Douglass Fir - 660
Chestnut - 540

Cypress - 460
Eastern White Pine - 380
Red Cedar - 350
But what do these numbers mean?
The Janka wood hardness rating scale is determined by the Janka hardness test. The Janka hardness test measures the resistance of a sample of wood to denting and wear. It measures the force required to embed an 11.28 millimeters (0.444 in) diameter steel ball halfway into a sample of wood. This method leaves a hemispherical indentation with an area of 100 mm2. (Wikipedia, n.d.)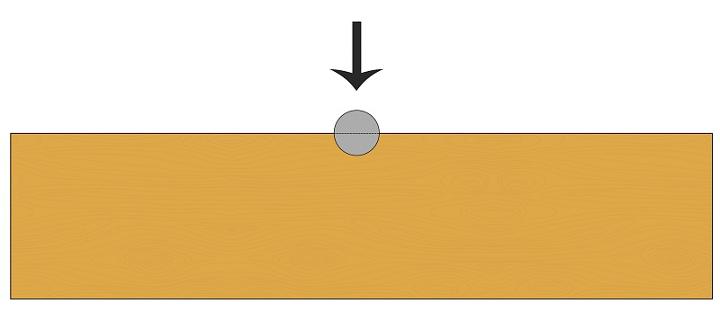 With the Janka wood hardness scale in mind, the higher the number, the more resistant the wood is to denting and wear. For reference, when comparing two types of wood like Hickory and Chestnut, Hickory has a Janka wood hardness rating of 1820 while Chestnut has a rating of 540, therefore, from this scenario, we can conclude that Hickory is the more resistant wood. The Janka rating is also a good indication of how hard the wood will be to saw or nail.

Which wood should you choose?
Depending on what you are looking to use the materials for, each kind of wood has its own unique qualities. The Janka wood hardness scale has become an industry guide to deciding whether the wood is suitable for flooring. Red Oak has a Janka hardness rating of 1290, this species has become a benchmark for comparing different wood species and their relative hardness.
If you perhaps are looking to add wood flooring to a high traffic area such as a commercial space, then something with a higher Janka rating, like a White Oak might be perfect for you. If you choose a higher rated wood, you can rest assured that your wood flooring will stand the test of time and be durable enough to withstand the wear and tear of people coming and going for many years to come.
If you want to add warmth and style to a lower traffic area such as your bedroom, where the issue of wear is a lower concern, than a lower Janka rated wood, like a Walnut, could be a viable option for your wood flooring needs.
All wood will eventually wear or dent, no matter the Janka rating, with time and impact. Choosing a wood flooring option with a higher rating will lessen the effects and lengthen the longevity of the wood.
Now that you know a little more about what all these numbers and ratings mean, you can make an informed decision about what materials you will need for your next project!
We know it can be a little tricky to factor in these numbers on top of everything else, but don't worry; WoodCo is here to answer your questions and help you bring your ideas to life! Whether you are having trouble deciding on what flooring materials you'd like to use, or how the Janka wood hardness scale plays into that, give us a call at: (210) 298-9663 and we'll share our knowledge and make you a wood expert too!