According to the National Wood Flooring Association (NWFA) 76% of designers list wide plank flooring as their top preference of wood flooring.
WoodCo manufactures solid wide plank wood flooring up to 12" wide and engineered wide plank wood flooring up to 20" wide.
Most popular wide plank wood flooring options
Pearland Plank – available in planks up to 20" wide and over 30' long
Engineered Wide Plank European Oak Flooring, Light Character Grade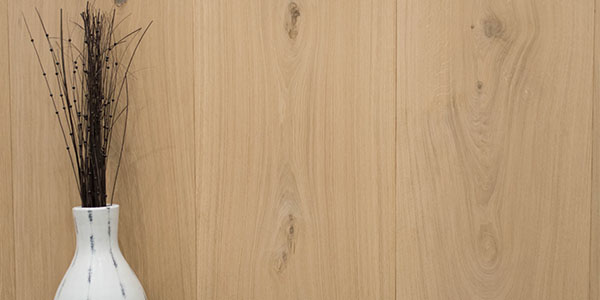 Edinburg Plank – available in planks up to 12" wide and up to 20' long
Reclaimed Solid Wide Plank Long Leaf Pine Flooring, Select Grade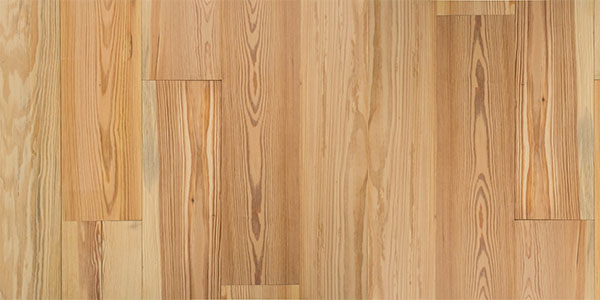 You may wonder, what is considered wide plank and what effects does it have on the overall look for a room. Some flooring widths go hand in hand with a style or flooring pattern. Let's explore more.
Strip Flooring – Strip flooring usually means that the width of the floor is no wider than 3" wide.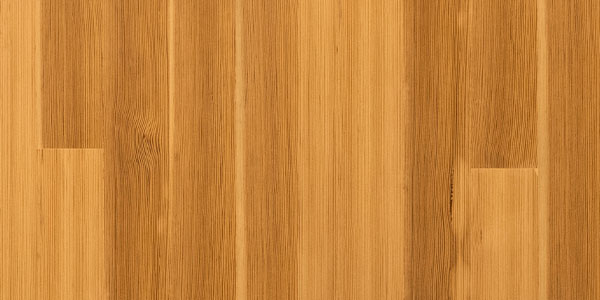 Standard Wide Plank Flooring – Widths of 3" – 10" Flooring is considered wide plank when it exceeds 3" wide. In recent years, 5" has become the benchmark for a wide plank.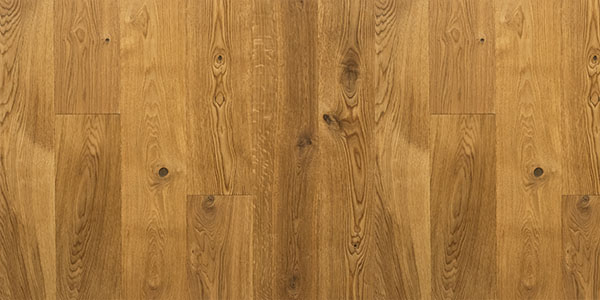 Super Wide Flooring – Wood flooring that exceeds the widths of 10" are thought of as super wide plank flooring.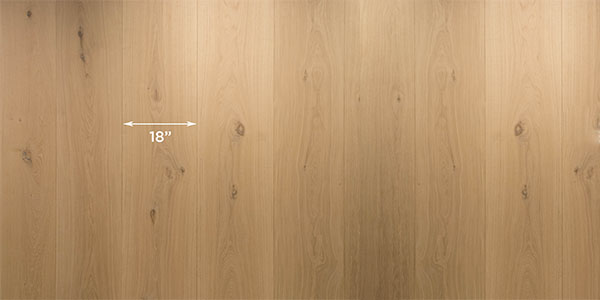 Benefits of wide plank flooring
Wide plank hardwood flooring is a current trend that is not going away anytime soon.  Flooring is often considered the largest canvas of a space and is a critical part of the design. A wide plank hardwood floor will make a space look larger, it will also give the room a more minimalistic look as there are fewer seams. Wide plank flooring also allows the wood to showcase more of the natural markings in the wood.
Things to consider with wide plank flooring
The wider your flooring planks are the more surface area they possess to expand and contract. If you would like a super wide plank hardwood floor you may want to choose an engineered construction to increase the stability of the wood. Additionally, when picking a super wide plank hardwood flooring, you will want to make sure you have longer lengths to compensate the widths.
When is each style used?
Strip flooring is common in historic buildings where they want to repair or recreate the original look of the floor; This size is also used a lot for making intricate patterns such as Versailles patterned flooring.

Standard wide plank flooring is the most common style of flooring. 4" wide planks are commonly used for patterns such a herringbone pattern and a chevron pattern. 7" wide is the trending size for plank flooring.
Random width wide plank flooring is also a common style of wood flooring, especially for reclaimed wood floors. Before the use of expensive modern machinery hardwood flooring was milled using whatever size boards people had, thus many historic floors are random widths

Super wide flooring is common in high-end luxury spaces.
Factors that limit the width of the flooring
The cut of material
Some cuts of material are only possible in certain size ranges; For example, the way rift sawn lumber is cut means there are limited widths. Often in rift sawn material the standard width is capped at 5" wide. Plain sawn and live sawn material produces some of the widest material for creating wide plank flooring.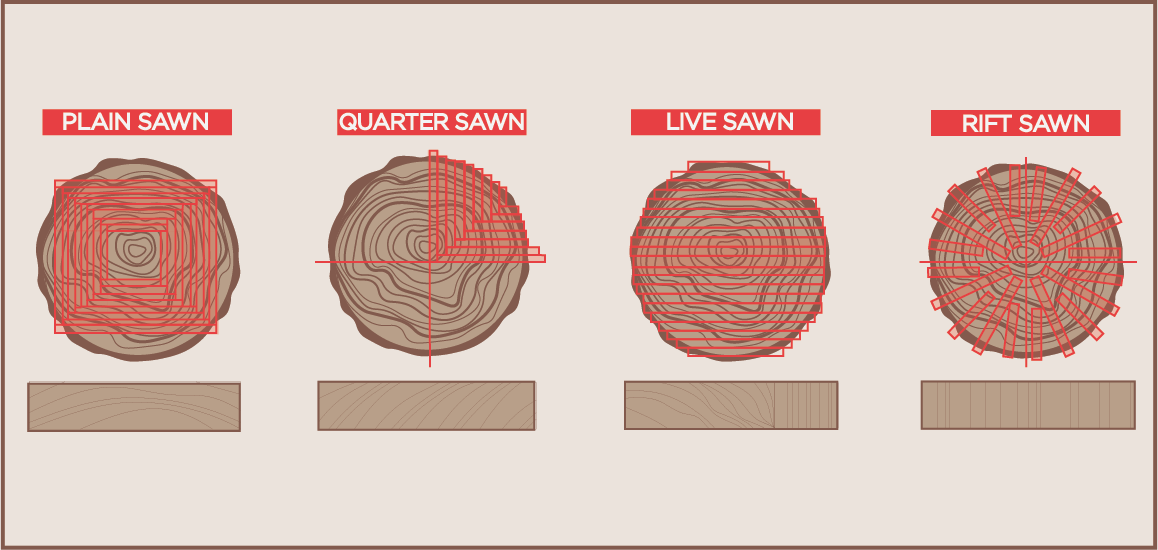 Grade of material
The grade of material refers to the visual aspect of the wood; For example, select grade will have fewer natural markings like knots and unique grain patterns, while character grade consists of all the natural markings that exist on the tree. The more select the hardwood floor, the more material that has to be cut out of the boards, and in effect, the less material there is available to use -- making wider widths and longer lengths harder to achieve.
What is WoodCo's most common width flooring? The most common size of flooring milled at WoodCo is a 7" wide plank. The other common widths include 3", 5", 9", random narrow (2" – 6") and random wide (5" – 9").
If you have a custom project please feel free to contact one of our wood experts at (210) 298-9663. We look forward to helping you find the perfect width flooring for your project.