Nestled in the Northeast of The Netherlands, is one of WoodCo's manufacturing facilities. This sawmill manufactures engineered french oak flooring. Recently some of the WoodCo Team went to take a tour of the Mill.  In the mill, each machine plays a specific role to create a high quality floor. Let me walk you through each step, from raw lumber to a ready to install engineered floor.
First the wood starts off as a piece of 4/4 (1" thick) material.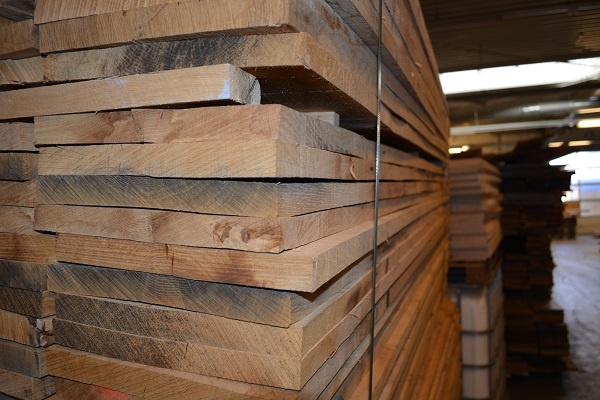 The 1" boards are then placed on the boards edge into the vertical bandsaw. Five boards can be put in at one time.

Three blades cut the 1" thick board into four lamellas. Lamellas are the top layer of the engineered floor. This is the part you will see when the floor is installed. A good quality engineered floor should be almost impossible to tell apart from a solid floor once installed. This high quality has a lot to do with the lamella.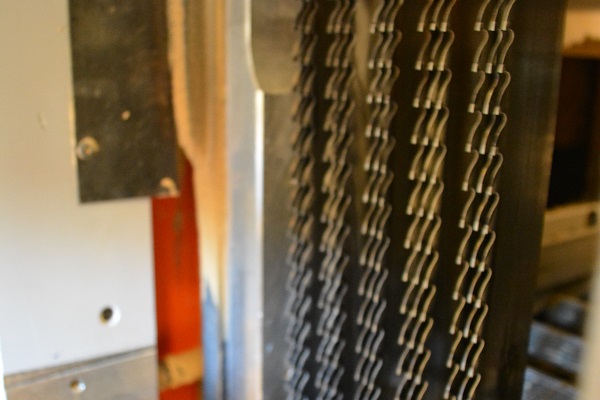 The lamellas are then stacked ready to be engineered onto plywood.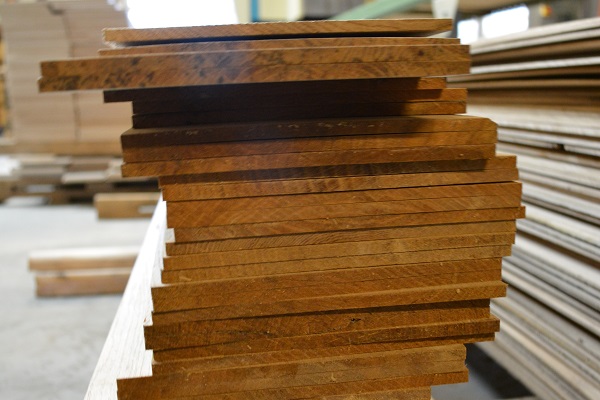 Premium quality Baltic Birch Plywood is precut to the size of the floor. Baltic Birch is native to Northeastern Europe and is constructed using cross banded layers making the sheet very stable and  lay very flat creating a superior base for the lamella.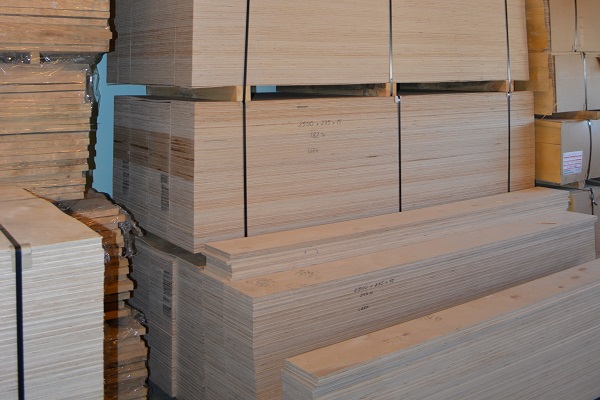 Next, the plywood is sent to the glue line to get laminated with the lamella. The glue is put onto the plywood in long continuous lines down the boards.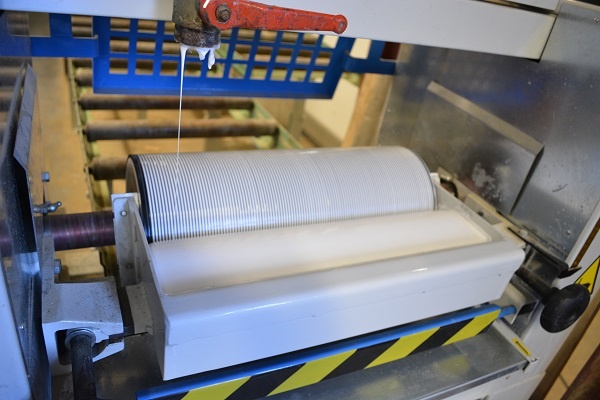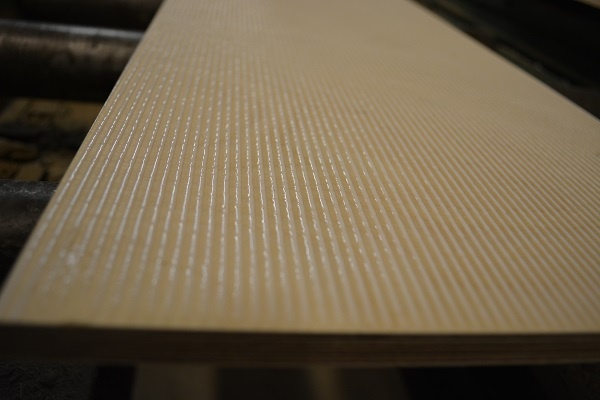 A lamella is then placed on top and the boards are stacked up and placed in a hydraulic clamp to set.  The high pressure creates a very strong lamination.  This is essential for a high quality engineered floor.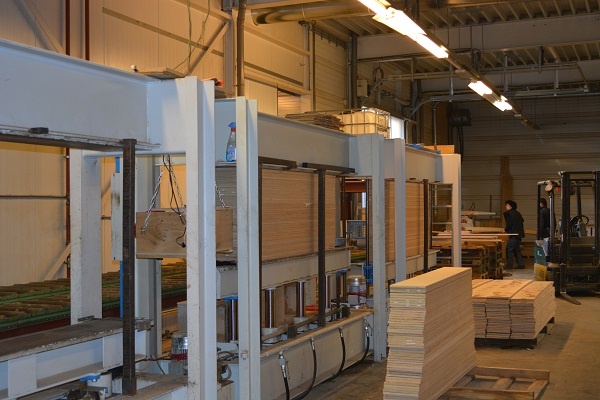 The boards are now ready to go through the moulder creating the tongue and grooves on the boards. The tongue and groove is an interlocking ridge and groove down the side of each board.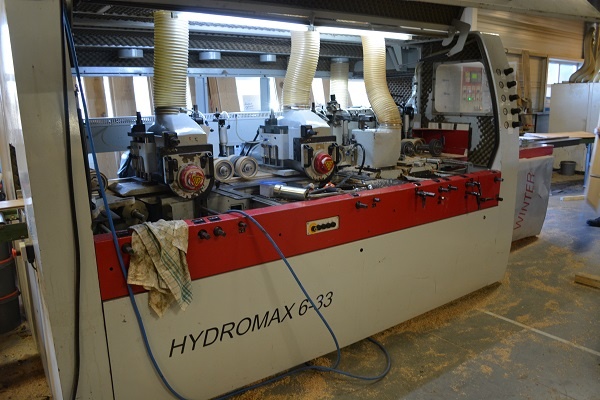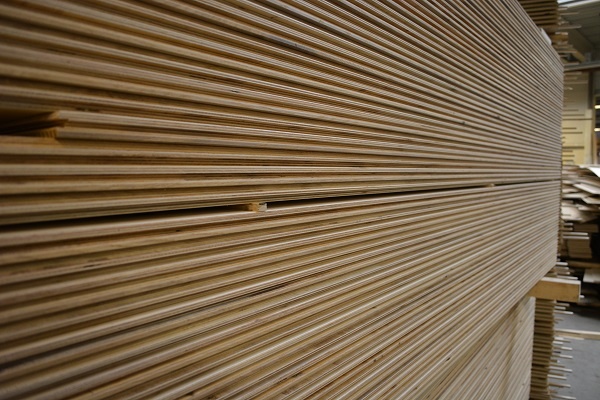 This floor is to be pre-filled so any holes or knots in the wood are filled before being installed. Each board is carefully inspected and filler is generously applied. If any boards do not meet the grade, the boards are defected. Meaning the area that does not meet the grade is cut out. If it is a large area the board is completely removed.
Next the boards are stacked up to let the filler cure.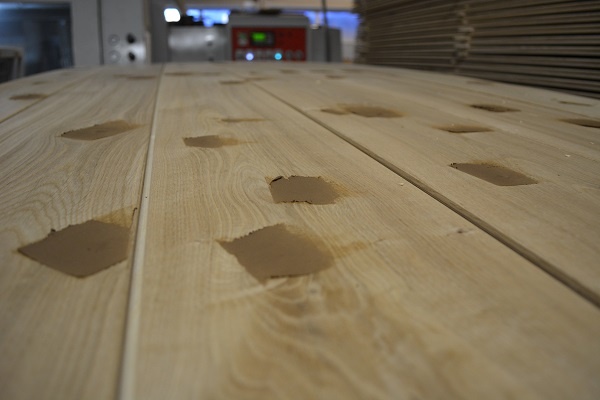 Once the filler has hardened the boards are sanded down, creating a smooth pre-filled floor. Finally, the boards are stacked into bundles and wrapped for shipping ready to be installed and finished on job site.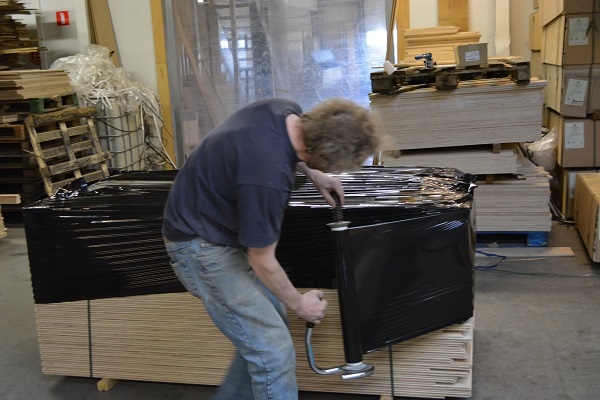 I trust you enjoyed reading this article and have learned something new about the process of creating a quality engineered wood floor.
For more information call us at (210) 298-9663.  We look forward to working with you on your next project.